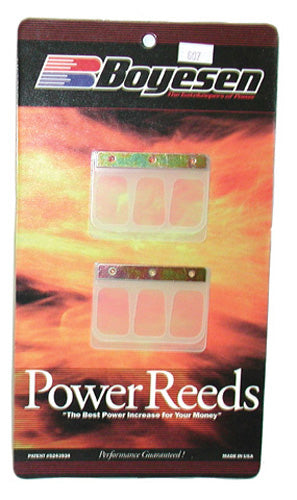 BOYESEN
BOYESEN 1996-2002 HONDA CR80RB Expert M/C REED 631
---
BOYESEN 1996-2002 HONDA CR80RB Expert M/C REED 631 . The vendor part number is 631 . Read title carefully to know what you are getting. Catalog decription…
Boyesen's revolutionary dual-stage reed design delivers more
usable power than stock. Your original one-stage reed operates most effectively only within a narrow RPM range. Boyesen's one soft reed on top of one firm flow-through reed gives you a wide range of intake control, plus increased intake velocity. Your original reeds can't possibly duplicate that performance.
Dual stage reeds
Minor change gives major H.P. improvements
Faster opening and closing
Greater low pressure (Low-throttle) response
Greater velocity and flow area
Longer overall life
No engine damage if broken
Carbon pro has new carbon fiber reed for quicker response
PRO SERIES IS THE ULTIMATE PERFORMANCE PRODUCT
Boyesen Pro Series reeds use a carbon fiber top reed coupled with a durable fiberglass/epoxy bottom reed. Pro Series reeds offer a quick and accurate reaction to piston speed for smooth dependable throttle response.
What advantage do Pro Series Reeds have over Power Reeds?
Boyesen Pro Series dual-stage reeds combine a carbon-fiber top reed with a fiberglass bottom reed for unrivaled performance. The Pro Series Reeds are more responsive than our traditional Power Reeds. The carbon-fiber top reed has excellent response characteristics that provides even quicker acceleration, stronger throttle response, and more over-rev than our standard Power Reeds. The fiberglass bottom reed provides stability and longer reed life.
XCROSS DUAL CARBON WEAVE
Model-Specific variable tension reed petals.
Boyesen Pro Series Reed's Multi-Staged reed stacks feature Aerospace carbon material interwoven into tension combinations that maximize power delivery and peak horsepower. Boyesen engineers specifically tune the carbon matrix tension using a proprietary weave formula that is tested and optimized for each make/model/year machine.
T2 EPOXY
The most durable materials. The most lifespan.
The RC2 Series Rad Valve now features category-leading toughening additives to increase reed petal lifespan by resisting breakdown from damaging agents found in fuel.
MS PLUS FLOW OPTIMIZATION
One reed petal is NOT enough!
The reed petals in modern 2 stroke Offroad engines take an incredible amount of abuse! At peak RPM reed petals are opening and closing hundreds of times per second. Over time, a single reed loses its ability to regulate flow rates in proper proportions. This causes a loss of reed petal reaction and reduces the consistency of peak horsepower.
---
Share this Product