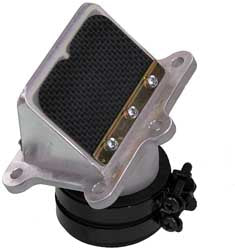 BOYESEN
BOYESEN 1988-1992 LT250R QuadRacer M/C RAD VALVE REED CR/ATC/TRX250R PSR-13 Suzu
---
BOYESEN M/C RAD VALVE REED CR/ATC/TRX250R FITS 1988-1992 LT250R QuadRacer Suzuki PART #PSR-13.
BOYESEN engineers embarked on a mission to create a new lineage of aerodynamic intake technology by refining the primary performance factors required to increase peak horsepower through design innovation: Aerodynamic Surface Optimization, Model-Specific Reed Petal Tensioning, Material Fuel Resistance, and Multi-Stage Reed Timing. Together, these innovations create a new technological benchmark in intake performance.
Boyesen Engineering would like to introduce the all-new RC2 Series Rad Valve, designed to increase overall horsepower and throttle response in the Yamaha YZ250/250X KTM65SX and Kawasaki KX85/100
Each Boyesen RAD Valve is unique - tailor made to that model, year and displacement.
The intake charge is redirected for more even distribution to the intake ports
Constant flow velocity is maintained for instant throttle response and more horsepower
One piece design and Easy installation
Make sure to read title to know what you are getting.
---
Share this Product